Reservation of barbecue areas and barbecue huts
You can book one of our 50 barbecue areas or canopied barbecue huts free of charge for your barbecues. Our areas and huts can accommodate various group sizes: whether a family outing, a children's birthday party or a club outing.
Please take note of the following when making your reservation:
Please book your barbecue area/hut over the phone. Please book barbecue areas and huts also in advance! You can't reserve your spot the day of the visit. Thank you:
Tel. 0 61 75 / 79 00 60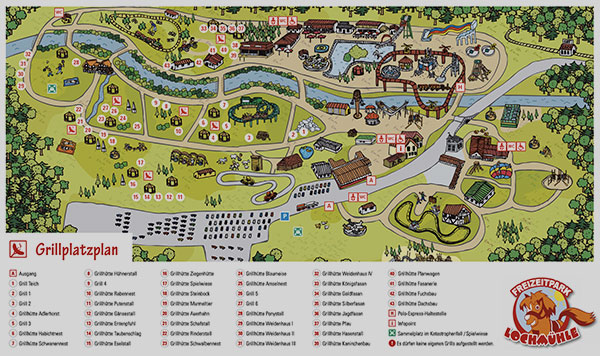 The barbecue hut/area has to be occupied by 11am at the latest. We cannot guarantee to keep the place free for you after that time!
Should you not be able to make use of the booked barbecue area, we would ask you to let us know as soon as possible.
Barbecuing is at your own risk. After your barbecue, please leave the completely cooled down ashes on the fireplace. The use of disposable barbecues is not allowed as well as bringing your own grill into the park. Please make sure to read our Barbecue Regulations (No. 7 of our Park Regulations)!
You can contribute to waste prevention by avoiding the use of disposable tableware.
Barbecue Regulations

7.0 Playing loud music or otherwise being wantonly loud or creating a disturbance is prohibited on park premises.
7.1 The use of barbecue facilites is at your own risk.
7.2 Barbecuing is allowed up to 6pm.
7.3 Make sure that the barbecue is never unattended.
7.4 Only leave the barbecue area after the ashes have completely cooled down and after doublechecking that everything is in its proper condition.
7.5 Only use the highest quality charcoal. Please do not throw wood or paper into the embers.
7.6 Only use solid charcoal lighters. Liquid lighters like petrol, petroleum, methylated spirit or the like are prohibited.
7.7 Only the fixed grills provided by the park can be used (no private/mobile grills are allowed to be brought into the park).
7.8 We will have to hold you liable for any damages to things or guests caused by the negligent usage of barbecue huts or barbecues.
7.9 We cannot assume any liability for things left behind.